Scroll down for the most recent Friday poems.
If you'd like a Friday poem in your inbox, you can sign up here.
If you would like to submit a guest poem or guest photograph for consideration, please follow these guidelines.
Thank you for reading!
Dave
We Blossom the World
February 7
Brighter mornings and longer days . . .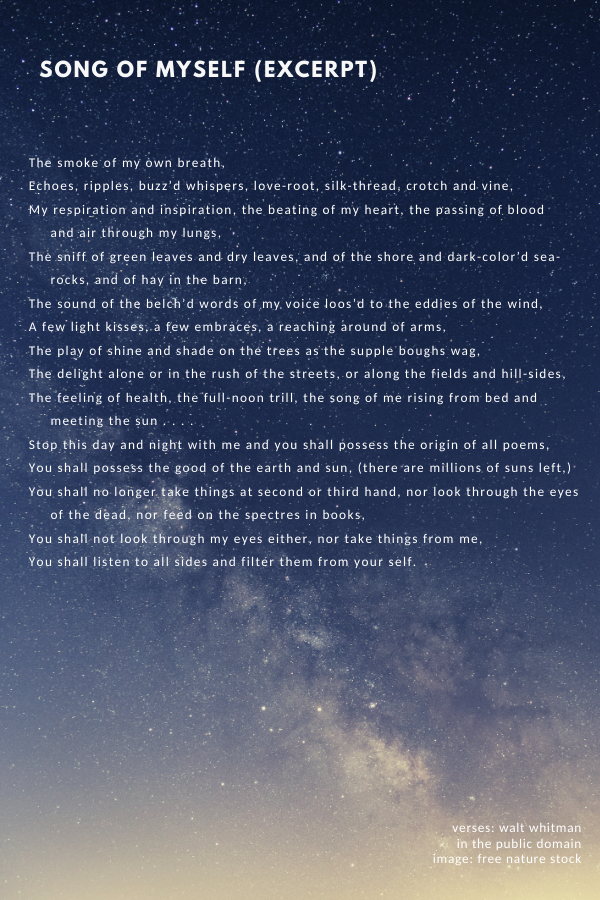 Song of Myself (excerpt)
January 3
Let's bring in the new year with Uncle Walt.
Happy 2020!
The Things We Take & Leave
December 20
I hope you enjoy Troy Urquhart's "The Things We Take and Leave," the last Friday Poem of the year. Happy Holidays!
The Star That Got Its Wish
December 13
I am pleased to feature Gerry Sloan again on Friday Poems. Who else is ready for snow?
Nothing Gold Can Stay
December 6
Happy Friday! Enjoy this classic poem by one of the great masters, Robert Frost .
Welcome guest poet, Yvonne Morris, with her pensive poem, Slight.
I regret to inform you
November 15
I am pleased to feature guest poet, Mick Kennedy. We chose a unique visual for a unique poem.
I was on retreat last week, so Friday Poems took a day off. But we're back this week with guest poet, Paulette Guerin, and her lovely poem on Rome. 
Today's poem is a limerick I wrote last year at Halloween. It is in honor of a local candy-giving legend who does this every year!
Excerpts from "Ode on a Grecian Urn"
October 18
Welcome guest poet, John Keats, with excerpts from one of his most loved poems.
Rothko's Red on Yellow
October 11
I was on a writer's retreat last Friday, so we took a break last week. But we are back strong with a poem that blends Rothko red with libraries. 
Entering the Blue Room at Ragdale
September 27
Welcome today's guest poet, Marilyn Kallet. I am very pleased to feature this lovely poem from Knoxville's Poet Laureate. 
Here and Now
September 20
Welcome Friday's guest, CD Albin. He writes a superb opening line with enviable alliteration: "Sawdust scrim settles."
Welcome guest poet, Phil Howerton, who puts his thumbprint on autumn and the "work shirt" of hearty plants.
I'm delighted to feature today's guest poet and fellow Ozarker, Gerry Sloan. 
Enjoy today's Friday poem, originally published in my book, O: Love Poems from the Ozarks from TS Poetry Press. Happy Friday!
Fragmentary Blue
August 23
Welcome guest poet, Robert Frost. On New Year's Day, a good number of his poems entered the public domain. "Fragmentary Blue" is one such poem. Enjoy!
Ushered into the Night
August 16
To the underappreciated bouncers out there . . . .
Frappuccino Love
August 9
A very silly poem. First published by the literary magazine, Forge, then later appeared in my book, Seasons in Love. 
Do you know a charming man such as this? I hope you enjoy this Friday poem from my book, You Know the Ones.
My Heart Leaps Up
July 26
One of my literary heroes is this week's guest poet, Mr. William Wordsworth.  
Today's Friday poem is from guest poet, Leslie Marie Aguilar. As a former resident of Abilene, I more than appreciate this ode to that West Texas town.   
This poem will complement next week's poem from Leslie Marie Aguilar, as "Regret" also has the theme of romance.  
The Middle Boy's Name
July 5
I am pleased to feature Ashley Underwood's fine poem that was originally published in a journal close to my heart: Elder Mountain: A Journal of Ozark Studies.